LODGE CHARGE-VOL VII, Number 2-July 18, 1966
No, Hampshire Lodge has NOT gone Nudest...The Laundry in not in yet!
HAMPSHIRE LODGE AU GO GO
If anyone wondered why amplifiers and other forbidding looking electronic equipment was being transported from one end of the Lodge to the other last week, his curiosity was satisfied by Monday night's evening activity. Hampshire Lodge Au GoGo definitely took place, although not everyone was in the proper physical condition to take part. The Lodge Five, composed of five Lodgers, Nina Auerbachon drums, Bob Hertz, Dave Toorchen and Mike Bitterman on guitar, and Barry Flast on tamourine and vocal cords, faithfully performed many well known rock and roll songs. Many Lodgers danced with great enthusium for great lengths of time, whereas others alternately pranced, walked or danced in and out of the Rec Hall as amplified music simultaneously attracted and repelled Lodgers from as far away as the Music Room. Now all we need is a fan club.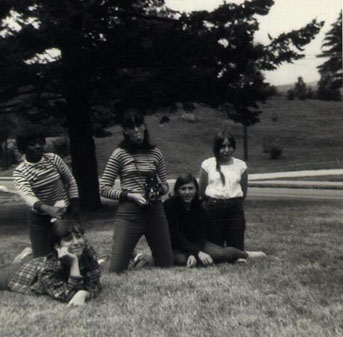 Donna, Sally, Sue F, Nancy, Betsy H.
There was a review of THE TALENT SHOW, POETRY READING & FOLK DANCING
HOOT
Last night we had a fairy nice hoot as Joe Lobell and Kenny Riskin will tell you. Jenni Grayson started out with a Portugese song "Te Ador". She was then "chased" by Jeff and Dale playing "Blues in E". The haunting melody of "LOng Black Veil" was performed by Wendy Kalish. In an attempt at success Laurie Dobrish and Mark Moskowitz "tried for the sun". They made it easily. We then took a trip to "Venuzuela" under the auspices of Laurie Noble and Karen Harari. At this point Joe and Kenny, couple of the year, treated us to an original composition "Runaway Fag Rag". Did your baby ever run away with a Fairy? We hope not! Dave Shapiro and Donna Abrahams quickly brought us back to reality with a beautiful rendition of "Colors" followed by Judy Meyers and Lisa Palitz doing 2 songs. The Ellis River Hell Rasiers then performed.
QUOTES OF THE WEEK
"Even I could see you married, Judy, if you'd just get dressed up for a change." Bill Luria
"You remember me, we went to different schools together" Nancy Silverman
SCENES WE'D LIKE TO SEE
A bigger side lawn
Muffins and tea
Charlie Chaplin films
Some softball team?
A barren canteen
Less Girl Scout camp songs
Less chlorine
Laundry
A fixed potter's wheel
DAILY DIRT
What's a nib-rock?...Is it true we have a soul city?...What jug band?...Are the boys making wine at night, stomp stomp?...Are they filling the pool from the kelvinator?...Is it true Michele hit her man?...Is P.F. pretty or is he really boss?...Who will be next Bobbi?...Who's striking it Rich in the dining room after meals?...Don't Joe and Kenny make a good couple?...Is Bach turning over in his grave?...Our bagels come from Bethleham?...