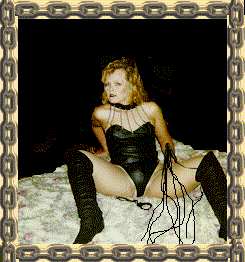 Hi, I'm Nina. I'm 31 years old and was born in 1966-around the summer of love. I've had dominant feelings ever since I was 7 and my father embarrased me at my birthday party by whipping me in front of my friends. I remember the smell of the leather from his belt and whenever I smell leather now I get all tingly inside. Don't get me wrong, I'm not weird or anything. I actually do volunteer work for the Bnai Brith and am married to a wonderful man, although he has no idea of my other life as Mistress Flora.
"You will address me as Mistress Flora,
worship my feet and you'll adore a little snap of my whip,
I'll get you to strip and soon you'll ask for more a little verbal abuse,
a little scratch from my nails, if you don't do what I say,
you'll hear from my cat o nine tails"
Would you like to meet Stu?